For some people cars are more than just a means of getting from Point A to Point B; car-enthusiasts are always looking for ways to improve the performance and look of their 'ride'.  Performance headlight globes can do both – improving night-time visibility through high-intensity illumination, whilst offering striking custom colours and light-hues.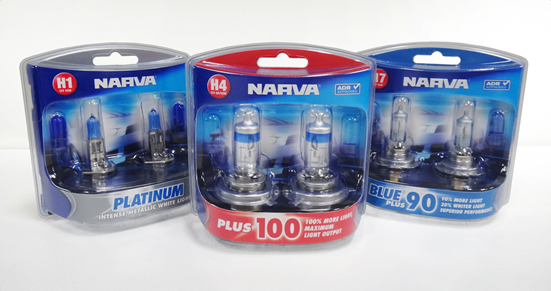 NARVA has a long-standing reputation as a leader in performance headlight globes. In response to advances in globe technologies, NARVA needed to launch a new range of products that maintained their market-leadership position, and part of this strategy involved a full re-design of the range's packaging system.
The Challenge:
Develop a modular packaging system for NARVA performance globe range which provides a striking on-shelf appearance, creates a visual focus on the globes, dramatically reduces packaging cost and simplifies packing and processing.
The Timeline:
MANO helped NARVA develop the complete packaging range, from initial concepts to tooling-ready design data within 4-months!
The Design Process:
We kick-started development with a concise round of 'in-field' research. This gave us an understanding of the automotive aftermarket retail environment, and  an overview of  latest packaging trends in this segment of the market.  This research fuelled subsequent sketch development of a broad range of initial design concepts, enabling NARVA to select their preferred direction. Concepts were then refined using a combination of sketching and 3D CAD surface modelling.
An audit of key globe dimensions was conducted across the 7 globe models and 8 technologies to evaluate variation in product sizing. This information was used to develop final functional design for clipping and alignment features, plus clearance allowances in packaging.
All parts were modelled in 3D CAD allowing us to design components down to the last detail, and create virtual assemblies of each pack variation to confirm and analyse assembly conditions. An advanced 'master model' CAD technique was used to drive critical geometry in parts from a single parent file. This ensured all versions of pack automatically updated to reflect any changes in design and were therefore guaranteed to match common parts as intended, and dramatically reduced time required for CAD development.
With such a tight timeline, the program required concurrent development of physical packaging, packaging graphics, prototype manufacture and testing, and preliminary tooling and production activities. Leveraging NARVA's investment in MANO's 3D CAD, design data was used to ensure the different areas of development were properly coordinated including:
Supplier prototype tooling and samples directly from 3D CAD data
2D perimeter die lines for internal cards generated from 3D models ensuring graphic elements matched blister forms
Production tooling, knife dies and welding fixtures all based on 3D data
The Solution:
A simplified blister pack was developed with a common outer shape, allowing a single back to be used on all pack variants. A number of front blisters are used with central geometry adjusted to correctly cradle glass section of each globe type.
Clips and alignment features are integrated into front blister to simplify packing. This ensures globes can only be packed in the correct orientation, and are securely held in place during welding processes and transport. A large 'tear out' rear-panel converts the pack into a holding tray to protect globes during installation.
Internal printed card inserts are profiled to match blisters, and wrap around globes for a dynamic, eye catching result. Graphics are also colour-coded to help customers distinguish between globe technologies and models.
The final design solution delivers many benefits to NARVA:

REDUCED PACKAGING: A modular packaging system that reduces packaging components across the range.
CONSISTENCY: A consistent packaging appearance across all 8 globe technologies and 7 globe models.
PREMIUM APPEARANCE: A striking on-shelf appearance which focuses attention on product and reflects premium product positioning
COST REDUCTIONS: Dramatic reduction in packaging costs
SIMPLE & ROBUST: Simplified in-house packing of globes and improved resilience in transport
EFFICIENT PRODUCTION: All pack variations are welded in the same machine and tooling for maximum production flexibility and efficiency.
REDUCED FAILURES: Packaging encourages correct handling of globes (avoiding glass) reducing product failures
OPTIMISED IN-STORE: Efficient utilisation of limited in-store shelf space
The introduction of these new globe technologies, alongside a sophisticated marketing campaign has seen significant sales growth of NARVA's performance globe range –  reinforcing their leadership position in this market.
MANO enjoys a very close working relationship with NARVA's internal teams, enabling us to deliver an outstanding result with such a tight schedule.
We are very proud to be associated with companies like NARVA that continually strive to lead their industries with innovation, creativity and a passion to succeed.