I recently visited the Guangzhou LED lighting exhibition in South East China – and apart from being an amazing experience, it got me thinking about the merits and benefits of visiting trade-fairs, and why anyone in product development should make it a priority.
The show I visited took place at the Canton exhibition centre, located on the south-side of the Pearl River in Guangzhou. The venue spans approximately 190,000 square metres (yes, that's nearly 50 acres!), and around 110,000 people visit this particular show each year.
It was a fantastic experience to be able to travel overseas, be immersed in a different culture, and see (in one massive venue!) what is happening internationally in a specific industry.
Seasoned trade-fair visitors will attest to the fact that they could not maintain and/or grow their businesses without attending and/or exhibiting at key trade fairs. I think it is simply impossible to know what's happening in your industry without at least visiting a few shows each year.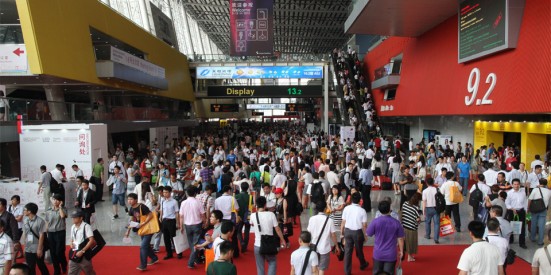 There is, of course, literally hundreds of trade-fairs each year. They will vary in their relevance to your company, however it's my guess that every company's industry is represented in at least 3~4 trade fairs locally and internationally.
Whilst Australia plays host to some decent trade fairs and exhibitions, I can honestly say that the international trade-fair circuit (I've visited Germany's Cologne Fair too) is a whole different ball-game.
…it is simply impossible to know what's happening in your industry without at least visiting a few shows each year.
So, how can you benefit from visiting an international trade fair?
You get to see hundreds (if not thousands!) of businesses and products that you may not necessarily see in Australia
See emerging technologies from all corners of the world
Be exposed to opportunities and trends that you might be able to adapt to your own market
Get inspiration and ideas for new products, or improvements to your existing ones
Meet new potential suppliers and customers – all in one place
Learn how international companies market their products – allowing you to benchmark your own business
Identify opportunities to market your own products and services on the world stage
Whilst it can get expensive traveling around the world to see various shows, if you can:
choose the most important and/or relevant shows to your business
develop a clear set of objectives for what you want to see, learn and take away
review and shortlist exhibiting companies that you want to network with…
…you'll have a robust strategy for getting the most out of your investment, make the best use of your time during your visit, and contain your costs as much as possible.
What can you learn by visiting an international trade-fair?
New methods, product types, sales approaches and marketing techniques
Despite the huge amount of global competition, true innovation is achievable – you just need to have your eyes and mind open to the possibilities
Customer service skills – see how people from different companies and nationalities approach their sales and customer relationships
So, do your research, find your key industry show (it might be in Asia, Europe, USA or elsewhere), and book your flights!
Oh, and make sure you grab a comfortable pair of walking shoes… you'll need them!