"How do I convince consumers our product as good as we say it is?"
This is a common problem for many companies, especially in a world where consumers are becoming increasingly sceptical of product claims in advertising and marketing. For Spa Electrics, the answer was "Let them see it for themselves!" The easiest way to prove to customers that their pool would look great with a retro-fit ATOM light was to let them "Try before you buy".
However, finding a convenient way for pool-owners to test a light in their own pool posed a significant challenge for Spa Electrics and MANO.
The Challenge:
Develop an easy-to-use, mobile kit which allows potential customers to test the ATOM pool light at home – without aid from a pool professional or modification to existing pool.
The Timeline:
This project saw Spa Electrics' collaborate closely with MANO Design in all aspects of the 'Plunge light' test kit development over a 4-month duration.
The Design Process:
The initial stages of the process were focused on identifying and understanding critical design requirements, these included:
Ensuring maximum user safety as kit is used near water
Developing a test procedure which was simple to follow with a repeatable result
Simple transportation and neat storage
Achieve a robust, high quality result at a reasonable cost in low volumes
Based on this, design solutions were developed and OEM (off-the-shelf) component options sourced. Mechanical mockups were used throughout process to test and refine kit function and usability. This allowed critical user interactions to be evaluated, and feedback sourced from Spa Electrics internal technical and marketing teams.
The final mechanical design solution is a mix of quality OEM components, 'repurposed' Spa Electrics production components, and custom fabricated functional elements in high spec materials. This clever combination achieves a high-quality result while meeting budget constraints in low production volumes.
MANO also assisted Spa Electrics in development of production and assembly aids for OEM components including drilling jigs and mounting fixtures.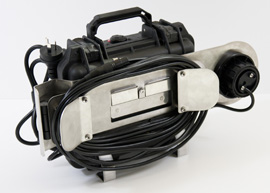 The Solution:
A rugged, easy to use, self-contained test kit that customers borrow overnight from their local pool shop. The kit consists of two key components:
a heavy duty carry case to house supply electronics
a custom designed test-arm that can be freely positioned around the pool edge
Users simply remove test arm from holster on side of carry case, and unfold and place arm at the desired location on edge of pool. This submerges the fully-functioning EM light to the correct depth below water surface ready for testing .
Key features of final design solution include:
A 20M low-voltage cable retained on the test arm connected to power supply via simple plug.
Connection to 240V mains supply via standard power point (GPO).
All high voltage (240V) components securely housed inside heavy-duty carry case.
All cables neatly retained on test arm and carry case for storage and transport.
Folding test arm for 'flat pack' storage in holster on side of carry case.
Quick reference 'step-by-step' instructions printed on side of carry case.
All components in  compact 'carry-away' kit .
The benefits to Spa Electrics of final design solution include:

An easy to use kit which is durable enough to survive years of 'overnight loans'
A flexible low-voltage connection which allows for 240V power supply to be kept a safe distance from water while allowing light to be tested at several locations around pool.
A simple setup procedure ensuring maximum 'test consistency'
Clever use of low volume manufacturing techniques, OEM components, and component storage solutions to provides a kit which reflects quality of Spa Electrics product and brand.
With the support of these Plunge-light kits, the launch of Spa Electrics' ATOM-series lights have received an overwhelming market response and product-acceptance from pool builders and owners.
MANO enjoys a very close working relationship with Spa Electrics, and we are very proud to be associated with a company that proudly continues to support manufacturing in Australia.
See folio section of website for other key elements in the ATOM marketing strategy designed by MANO.