MANO Design can help you translate the needs of customers and end-users into design concepts, prototypes, detailed technical specifications and supporting literature – all tailored to the needs of your management, marketing, engineering and manufacturing teams.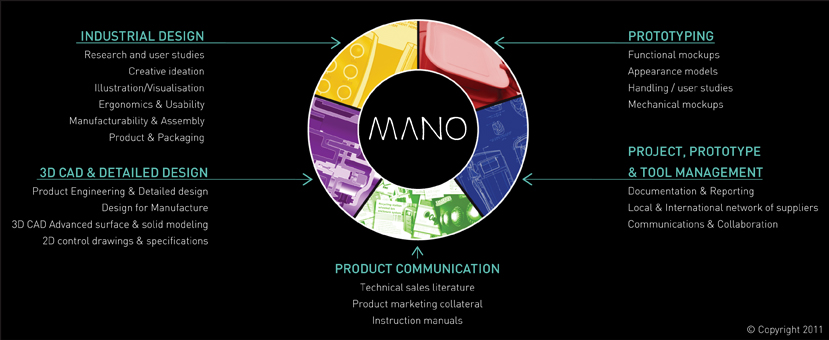 Integrating design processes early in your new product development projects will help you to identify and solve problems, address market concerns and make sure your corporate "flavour" shines through. Design is also a crucial input to your manufacturing phases, enabling you to replicate your product design reliably and consistently.
Many organisations are currently benefiting from the investment in technically competent, experienced external design resources. Incorporating Industrial Design within your product development programs is a prudent and affordable business strategy that can bring product ideas to life and reduce the risk of your R&D, marketing, manufacturing and distribution investments.
Since 1997,  our design contributions have been recognised in numerous patents, design registrations, Australian Design Awards, Powerhouse Museum and Design Institute of Australia commendations.
MANO Design
has a multi-disciplinary design network that has supported many Australian and multinational clients with leading product development and associated services.
Our team can tackle a wide range of design problems and , and have delivered successful design solutions to Fast Moving Consumer Goods, Packaging, Consumer products, Industrial Products, Automotive and Medical industries.
MANO Design assists clients by providing:
Assessments of your product's strategic aims and objectives
Concept development, visualisation & presentation
Photo-realistic product images and animations
Product research and design evaluations
Ergonomic and human-factor reviews
Creative Brainstorming workshops
Computer Aided Design (CAD)
Prototype coordination & manufacturing
Tooling and Pre-Production management
Contact us today to arrange a no-obligation, confidential design consultation.
To find out how we can help, contact us