Whether you are a 'car-lover' wishing to improve the look of your vehicle, or want improved night-time driving visibility, Performance headlight globes can provide the solution you are looking for. Performance headlight globes achieve this through high-intensity illumination, and a range of striking hues of light. However with a wide range of options available how can you be sure your picking the right globe?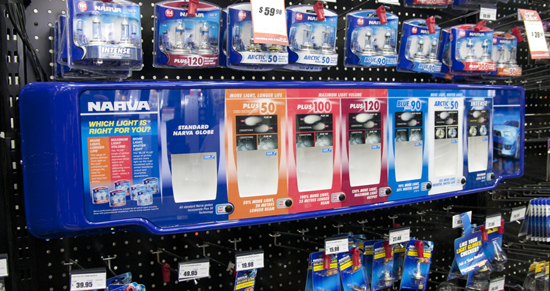 As a long-standing leader in performance headlight globes, NARVA wanted to make it easier for consumers to understand the benefits of performance headlight globes, and select the correct product for their requirements. The best way to do this was to allow consumers to see and compare illuminated globes in-store prior to making a purchasing decision.
The Project:
Develop an eye-catching, intuitive & safe-to-use performance globe demonstrator which makes it easier for consumers to understand the benefits of performance headlight globes, and select the correct product for their requirements. The demonstrator must mount directly to the in-store shelving system, integrate visually with hang sell product on display, and reflect the superior quality of NARVA Performance globes.
A close collaboration between NARVA's internal teams, manufacturers and MANO Design enabled the in-store demonstrator to be developed within 4 months from initial concepts to sign off for production.
Our Approach:
Our initial focus was to gain a detailed understanding of design requirements. This was achieved by:
Analysing constraints/requirements for integration with existing gondola shelving system
Reviewing recommended planogram layouts for NARVA Performance globe hang sell products in-store
Reviewing key design elements of existing globe packs, and required branding and product information.
Confirming installation and ongoing servicing requirements.
Once design requirements were established, initial concepts were developed thru a combination of 3D CAD layouts and hand sketches. This ensured that even the initial concepts were an accurate representation of critical functional and size requirements. These concepts were reviewed and refined with NARVA prior to development of detailed design utilising our 3D CAD (Computer Aided Design) system.
Detailed design development leveraged MANO Design's experience in low volume manufacturing processes, with solutions developed in close consultation with the local manufacturer to optimise manufacturing efficiency. Based on data generated directly from our 3D CAD models, a fully functional prototype unit was constructed for testing, review and approval by the retailer prior to committing to production. The 3D CAD data was also used to generate outlines for graphic design development to ensure both structural and graphic elements were correctly integrated.
The Solution:
A demonstrator 'light bar' mounted to the in-store gondola system at shoulder height surrounded by hang sell product. The front of the enclosure sits at the same level as the surrounding product to visually 'embed' it into product range.
The demonstrator includes a series of individual light chambers where globes are shielded from direct view by a graphic panel. This means users see only the reflected light and are not 'blinded' by the light source, whilst also back-lighting product information when the demonstrator is in use. Customer interaction is encouraged through the use of push buttons to illuminate both the standard and individual performance globes for direct visual comparison. This, combined with integrated product information, provides a high likelihood of the customer being satisfied with final selection and purchase.
The demonstrator enclosure is comprised of the following key elements:
A structural sheet metal rear assembly providing simple hook attachment to shelving system, and mounting for heavy batteries and supply electronics.
A main forming made of plastic custom matched to NARVA's signature blue. A common part moulded in white plastic is used to create the row of viewing chambers within the main forming.
A clear plastic front panel with printed graphics to enclose chambers and provide the maximum area for branding and product information.
KEY BENEFITS OF FINAL DESIGN SOLUTION

A series of 'light chambers' with shielded globes for direct visual comparison of product options without startling customers.
Integrated graphic panel for branding and product communication – backlit by globes when in use.
A fully integrated presentation in-store of the NARVA Performance globe range.
Improved customer engagement through interaction with the product demonstrator
A simple mounting system to the existing in-store shelving system, and easy access to globes for servicing via a removable vented top panel.
Safe operation with thermal safety cutouts ensuring the unit turns itself off if there is any malfunction or misuse.
High quality appearance & finish in keeping with NARVA's brand and products.
MANO enjoys a close working relationship with NARVA's internal teams and the local manufacturer of this demonstrator – a key element in the successful outcome of this project. We are very proud to be associated with companies like NARVA that continually strive to lead their industries with innovation, creativity and a passion to succeed.
To read about our NARVA Performance globe packaging development case study click here.